Since Pro Kennex is one of the top pickleball paddle brands today, you may be wondering which Pro Kennex pickleball paddle you should purchase.
Pickleball is fast becoming a one of the most popular sports in the USA. It is now more mainstream, not just in the US, but in other parts of the world. One of the most essential parts of a pickleball is the pickleball paddle. Choosing the right pickleball paddle will help you level up your pickleball game.
Among all the pickleball paddle brands on the market today, Pro Kennex Pickleball Paddles are one of the most popular because they manufacture the best paddles. Not only is it a well-known brand, but a Pro Kennex paddle will also give you access to USAPA certified gear. This lets you play in professional tournaments.
The success of the Pro Kennex Pickleball brand has led to the release of several different bestselling paddles.
Pro Kennex pickleball paddles
One of the best selling points this brand has is that the paddles are shock absorbing. They are lightweight and agile with big sweet spots. This creates more pop and power with the paddle without the heaviness in your hand of other paddle brands. You also get good control. The textured face allows spin and precise shot placement. This can improve your kitchen play.
All this adds to your game and makes you a better player because the paddle does most of the work for you. Sure, you still need skill but when a paddle makes your game more efficient you tend to level up quicker.
After using one of these for a while you'll be able to see why these pickleball paddles are so popular. They take the fatigue out of a long game or if you're playing at a tournament.
They also have Air o Guard. This is a great invention. You can now replace an old or damaged edge guard without having to purchase a totally new paddle. You just pop of the old guard and screw on the new. It's like putting on new makeup and keeps the edge looking good!
So, if you're looking for a new paddle, you should definitely consider the Pro Kennex brand. In this article, we'll walk you through some of the best Pro Kennex pickleball paddle to help you decide which one is the most suitable for you.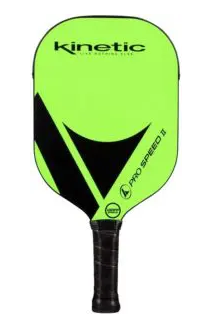 The first paddle is the PROKENNEX Kinetic Pro Speed ii paddle. One of the most popular paddles among professional players, this paddle provides you with great power and control while you play.
With its wind-resistant edgeless construction and shock-absorbing feature, you'll be able to play better games due to less vibration up your arm when you hit the ball. And this is the perfect paddle for those with tennis or pickleball elbow because it helps reduce any discomfort or pain in the elbows.
It sits nicely balanced in your hand and the shock absorption cuts fatigue – which can be a problem on a long day of tournaments.
Made with high-impact resistant polymer and honeycomb core, this paddle is very reliable. It also has an optional Air o guard edge guard if you prefer an edge guard. The construction is strong so a guardless paddle with a few scuffs will work just as well – these paddles are definitely built to last.
A lightweight pickleball paddle
If you're looking for a lighter paddle, this is a great choice – thanks to its thin core. But even though it is thin and light you still get a lot of power – if you need it. This paddle has great pop!
It also has a comfortable tapered grip that will fit your hand perfectly. Even smaller hands won't have a problem with this grip.
Whether you're looking to add more power to your shots or just want more control, the Kinetic Pro Speed paddle is a great option.
Plus, this pickleball paddle is approved by USAPA and can be used in professional tournaments. It also comes in a couple of color variations.
Although it is expensive and the paddle can still be damaged by normal wear and tear, the PROKENNEX Kinetic Pro Speed has outstanding features such as the thin core technology that make it worth the price.
A great value paddle that is easy to use for all levels.
This paddle review is the PROKENNEX Pro Flight Pickleball Paddle. This top-quality carbon fiber paddle has been specially designed in partnership with the US OPEN and USAPA Nationals Pickleball Champions. It provides an excellent balance between power and control, making it a great choice for pickleball players of all levels.
Because of its lightweight core, you can experience extreme maneuverability on the pickleball court. Whether you're looking to make powerful shots or return volleys with precision, this paddle is sure to give you the edge you need to take your game to the next level.
With its unique Kinetic technology, you can experience a difference in your game as it effectively reduces shock and vibration whenever you hit the ball. As a result, it lessens fatigue on your wrists, shoulders and elbows. The Pro Flight pickleball paddle's cushioned grip also minimizes the risk of arm injury and is the ideal paddle for players with pickleball or tennis elbow.
Best pickleball paddle for spin and control
The paddle has great pop and the new style face texture gives great control and spin shots that will have your opponent fuming! The paddle's special coated surface helps you make solid shots, and it comes in attractive colors that will make you stand out on the court.
This paddle is lightweight, quick, powerful and agile all in one. It is perfect for more petite players but still gives powerful shots without extra effort or needing a heavier paddle.
Since this paddle is approved for use in USAPA tournaments, you can be assured it is top quality.
Similar to other Pro Kennex pickleball paddles, this one comes with the super cool Air o guard edge guard that can be replaced easily. No more having to replace the whole paddle.
So if you're looking for a competitive edge, the PROKENNEX Pro Flight Pickleball Paddle is a great choice for you.
The PROKENNEX Kinetic Ovation Speed II Pickleball Paddle is one of the best pickleball paddle that is sure to help you up your pickleball performance. With its unique oval shape, this paddle provides you with an expanded sweet spot and helps you make solid shots every time.
Compared to regular pickleball paddles, this oval-shaped paddle improves your speed and maneuverability while also increasing the power of your serves. You can easily cut quick angles and make winning shots.
With the PROKENNEX Kinetic Ovation Speed II Pickleball Paddle, you'll never have to worry about the paddle slipping out from your hands due to sweat. This paddle grip has moisture-wicking properties that will keep your grip nice and strong, no matter how intense the game gets. This is really handy on those hot, steamy tournament days.
Oval pickleball paddle
Plus, it's lightweight and has a cushioned grip to give your palms added comfort, even during extended games.
If you're an avid pickleball player, you'll appreciate the arm protection that this paddle offers – thanks to its kinetic shock absorbing system. Unlike other lower priced pickleball paddles, this one also helps prevent players from getting pickleball elbow. And it comes with an extra large sweet spot which again helps with elbow pain and winning points!
Because the paddle is made with a carbon surface and has the replaceable Air o Guard edge guard protection, you can rest assured knowing that this paddle is built to last.
So go ahead and give it your all on the court – with the PROKENNEX Kinetic Ovation Speed II Pickleball Paddle, you can't help but come out victorious!
Which is the Best Option for You?
Now that you know the top three bestselling Pro Kennex pickleball paddles, which among them do you think is the best for you?
We can assure you that you won't go wrong with choosing any of the options we have shared above. All of them have excellent features and lightweight core that can help improve your shots during pickleball games. And these shock absorbing Pro Kennex pickleball paddles are excellent for those with tennis elbow, which is an added bonus.
There are many things you should consider when picking a pickleball paddle. You should check if the size, shape and paddle weight is suitable for you. It's vital to also check whether the paddle is made of reliable material. Whichever paddle you choose, the Pro Kennex line of paddles is an excellent option you should definitely consider.